Our Community Makes a Difference
The Guardian Board participates in God's work by providing advocacy and resources to Guardian Catholic School. These resources enable the school to provide educational and spiritual opportunities to children and families regardless of financial situation or religious preference.
Message from the guardian Board CHAIR
Dear Friends of Guardian,


Guardian Catholic School, the Sisters of Notre Dame, and their amazing faculty, are dedicated to providing excellence in education for our children and families on the Northside of our community. This is only possible because of our loyal donors and friends who believe every child has potential, which, when nurtured in an environment with strong values and encouragement, results in success.

We have a Board that is active and engaged, giving and involved in many projects for the School. Mark Dawkins, Professor of Accounting in the Coggin College of Business at the University of North Florida, is one of our Board leaders. Mark is working on an upcoming Speakers Series that opens possibilities and opportunities for our older middle school students.

We have been blessed by visits from community leaders like Seth Williams, publisher of the Resident News, who gave a talk recently to the 6th grade students when touring the school, and it was motivational in every way. The teachers and children know that when we present positive opportunities and encouragement, great things happen to young people – it may be just the spark they need.

There are so many ways that you can get involved through your gifts to the school. With the help of our donors, Guardian is establishing a Faculty Development Fund for continuing education that will have a direct result in the classroom and help with teacher retention in our inner-city school. We are in the planning phase for a state-of-the-art Outdoor Learning Center with a focus on science, including an urban garden that can be replicated throughout our communities in the city. In addition to expanding our music and robotics programs, we are adding a new math component to our Summer Learning Program based on the proven success of the digital phonics lab that was implemented last year.

We continue to look for solutions to the most basic needs like healthy fresh food and safe areas for children and families to play and gather outdoors. We are working to secure funding from donors like you to continue to offer field trips to explore the wonderful things Jacksonville has to offer educationally for every child. Please consider a gift to Guardian today, and if you are able, please accept our invitation to call us for a tour of our school.

With grateful appreciation for God's many blessings and your continued support, we thank you again for the difference you make for more than 400 children in North Jacksonville.




Jane R. Lanier
Chair, Guardian Board
(904) 477-0561



Jane Lanier - Chair
Kristi Aiello - Vice-Chair
Msgr. Jim Boddie
Beth Brockelman
Nancy Chartrand


Jay Demetree
Dan Rice
Sr. Dianne Rumschlag S.N.D.
Jim Selzer
Bob Shircliff*
Bobby Stein
Patricia Tierney
Louis V. Walsh IV
Lt. Col. Alton Yates
*deceased

Mark Dawkins
Ed Fleming
Keesy Goebertus
Bill Hendrich
Laurrie Leonard


Jennifer Churchill
Deacon Scott Conway M.Ed.
Rev. Mike Elias
Sr. Cynthia Shaffer S.N.D.

JSusan Masucci
John McLaughlin
Gregory Redmon
Thomas Szwed
Donna Williams
Leonard Brown Jr.
Jay Demetree
Michael DuBow
Paul Jones
Mark Lamping
Dan Rice
Darnell Smith
Bobby Stein
Dwaine Stevens
Ronald Townsend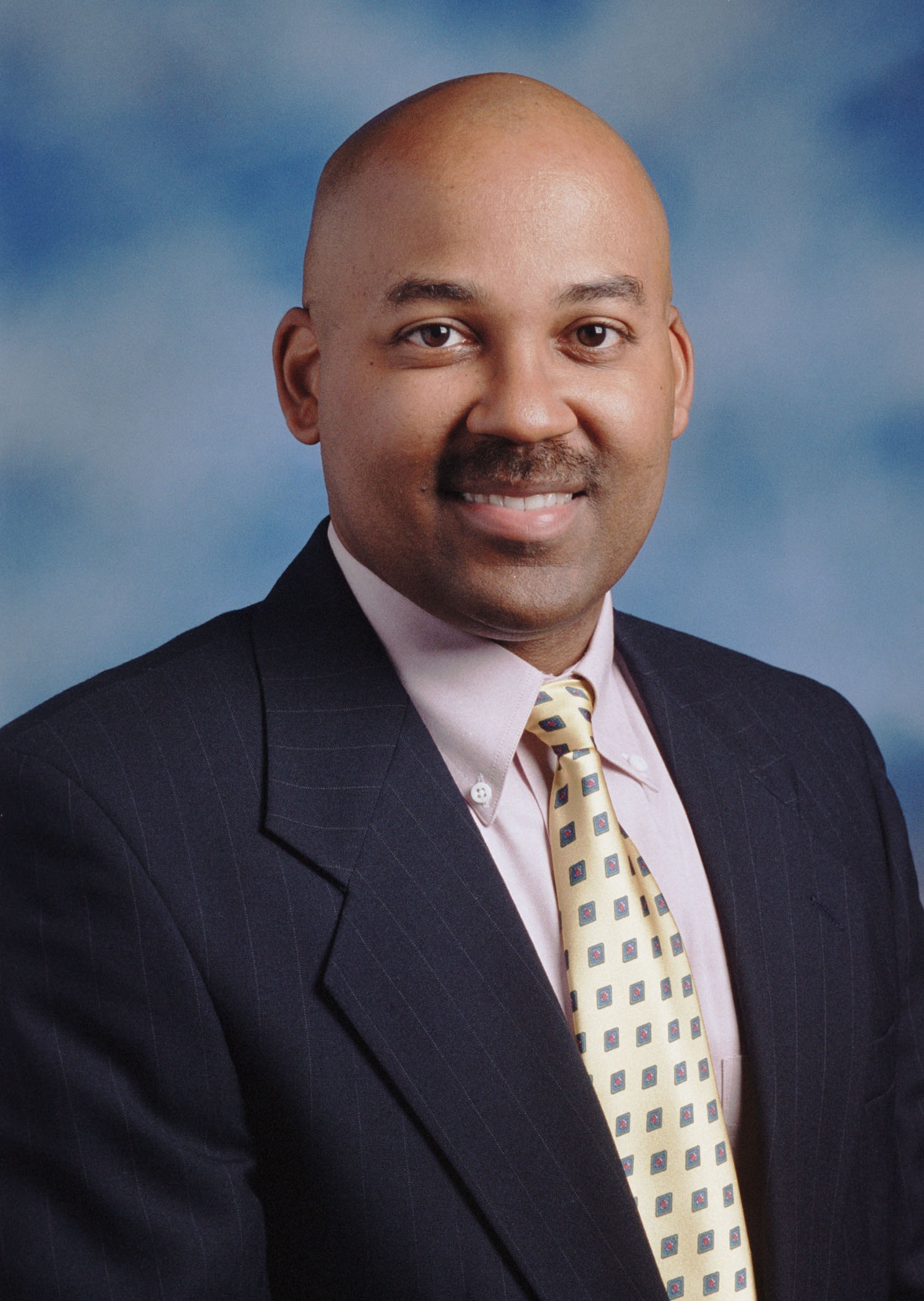 Mark Dawkins serves on the Board of Guardian Catholic School and in his own words does so as a way of giving back to his community where he grew up on the northside of Jacksonville. Mark attended St. Patrick's Catholic School from kindergarten through 8th grade then continued to Bishop Kenny High School.
He went on to receive his bachelor's degree in management from Georgia Tech. He holds an MBA and accounting masters degree from the University of Florida and a PhD in accounting from Florida State University. Dr. Dawkins recently was named as the first African American President of the American Accounting Association. His career experience includes serving as Associate Professor and Associate Dean for academic programs and director of diversity relations at the University of Georgia's Terry College of Business.
Most recently, he served for a five-year term as the Dean of the Coggin College of Business at the University of North Florida. He continues to serve on the faculty at UNF. Mark is one of seven boys in his family. His dad was a medical physician and his mom, a retired nurse. They believed that a great education made all the difference in the opportunities each of their children would have. His brothers are all professionals in the fields of law, medicine and business.
Mark is married to Janyce, and they have a son finishing his residency near Tampa as an internal medicine physician and a daughter who is a nurse at the nationally acclaimed Shepherd Center in Atlanta. Mark Dawkins brings his expertise to the Guardian Board in so many ways, serving on the Finance Committee, as co-chair of the Strategic Planning Committee and leading a speaker's bureau series for Guardian's middle school students.
We are blessed by his commitment to Guardian Catholic School and his great work for our community.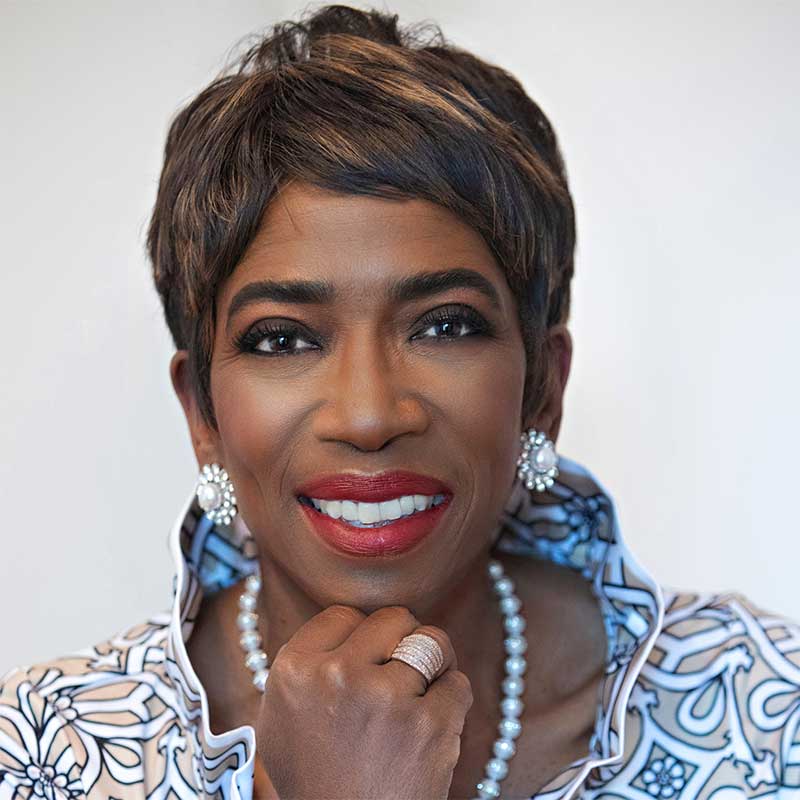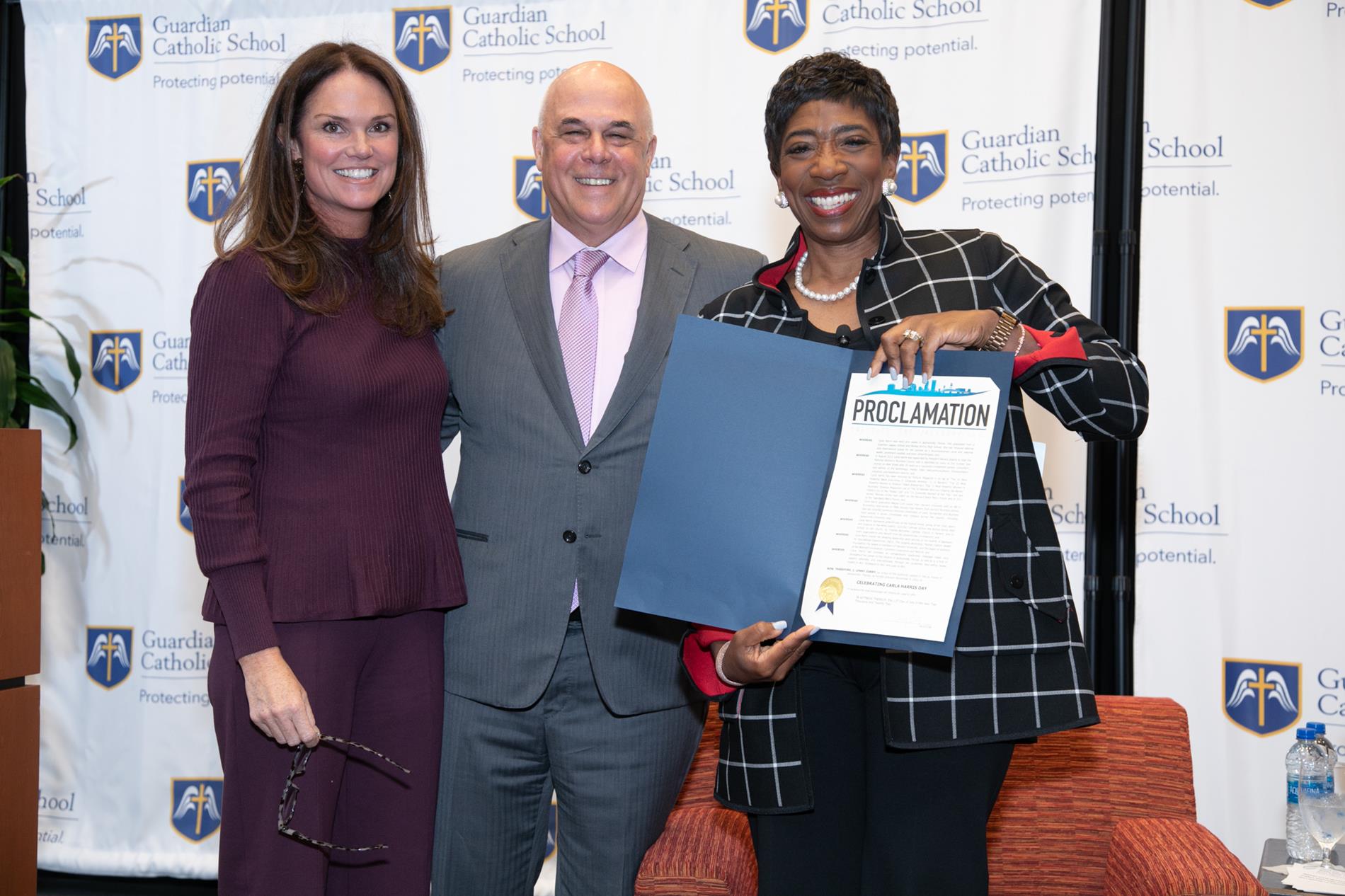 Carla Harris is Vice Chairman, Managing Director and Senior Client Advisor at Morgan Stanley. She is Guardian Catholic School's most famous graduate, having attended one of the Guardian legacy schools, St. Pius. Carla went on to Bishop Kenny High School, then Harvard University, graduating Magna Cum Laude with a degree in economics. She received her MBA from Harvard Business School with Second Year Honors before becoming the number-one woman on Wall Street.
Today, Carla is an internationally acclaimed speaker, author and Gospel singer. Her successful 30-year career is filled with numerous awards and honors from universities and corporations, non-profit charitable organizations, the Catholic Church, and an appointment under President Barack Obama to chair the National Women's Business Council. Carla's singing career includes four sold-out concerts at Carnegie Hall and several albums including Carla's First Christmas, Joy is Waiting and Unceasing Praise.
Carla serves on the national Boards of Walmart and Cummins and is involved philanthropically with many charitable organizations. The books she has authored, including Expect to Win (2010) and Strategize to Win (2014), have received wide acclaim, and now her third book, Lead to Win, is being released with an outstanding event on November 8, 2022, that will benefit Guardian Catholic School's Scholarship Program. The event is sold out with more than 600 guests expected to attend. Presenting Sponsor Florida Blue is hosting her presentation as a fireside chat alongside President and CEO of GuideWell and Florida Blue Pat Geraghty where they will discuss what corporations, businesses and communities must do to attract and retain the next generation of leaders.
It is with immense gratitude that the Board of Directors of Guardian Catholic School thanks Carla Harris, Florida Blue and our many incredible sponsors for their support for the mission of Guardian. Through the provision of scholarships, we offer access for students to realize their God-given potential through a strong education that emphasizes character, Gospel values, academics, and a strong work ethic.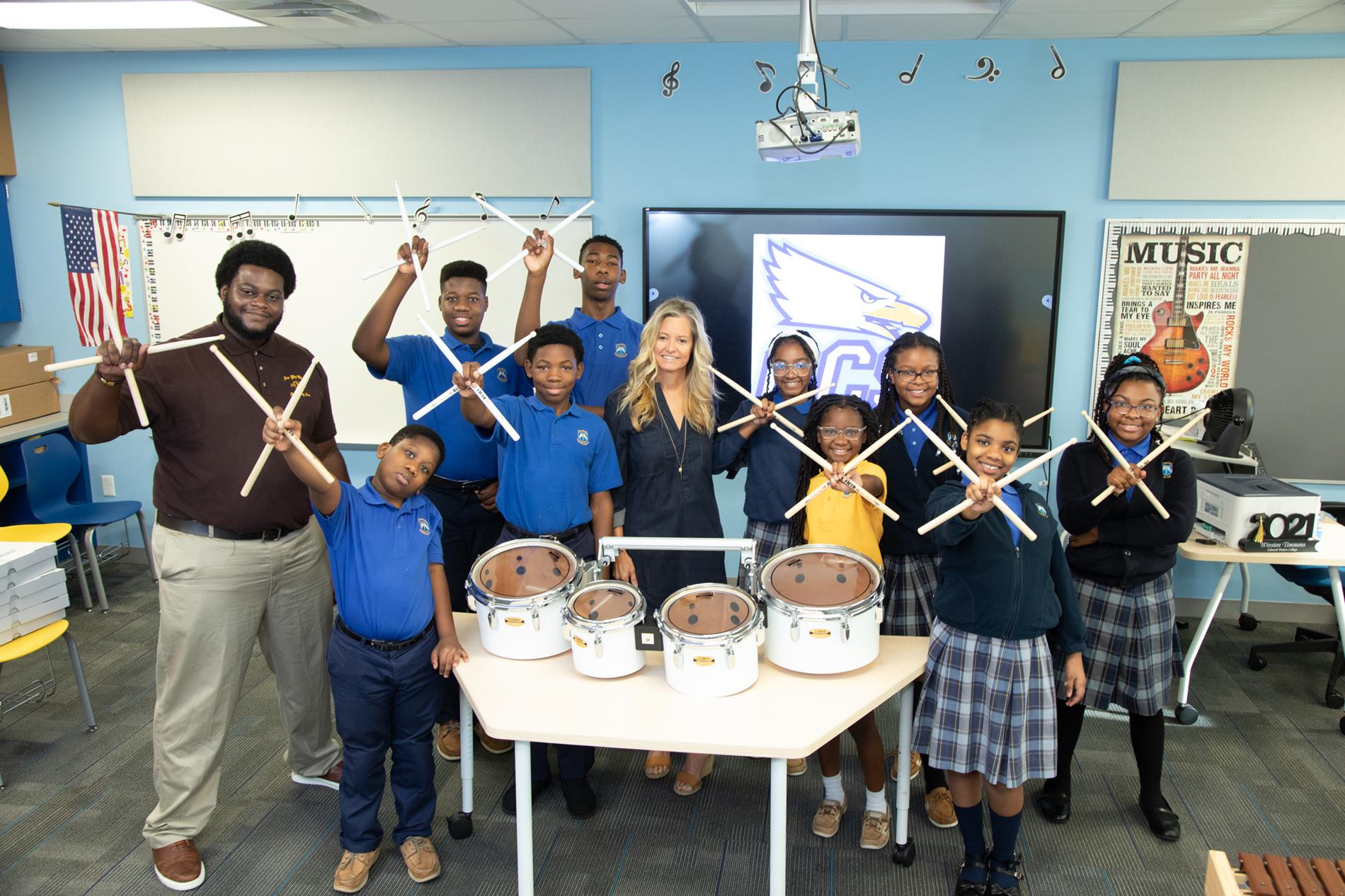 The Jim & Tabitha Furyk Foundation
The Guardian music program recently received a big boost thanks to The Jim & Tabitha Furyk Foundation. The nearly $16,000 gift brings a host of percussion instruments as well as new keyboards and xylophones.

"There are so many amazing things Guardian Catholic School is trying to accomplish and given our foundation focus on specific projects, this is a perfect match," said Tabitha Furyk. "Learning to read music truly gives these students an opportunity to grow their future and being able to give them these instruments and watch this program grow will be amazing. We're glad to be part of it.

"The Furyks were moved to action upon learning of the desire to expand the Guardian music program, a goal of the school's new music teacher, Winston Timmons. Much of The Furyk Foundation's gift went toward efforts of establishing a drumline. Tabitha Furyk paid a visit to Mr. Timmons' music class on September 14, during which students performed exercises on the new glockenspiels and drums funded by the Foundation. Tabitha spoke with the young students about her own time playing the French horn during high school and the importance of music education.
"Having a drum line at Guardian will further round out our program, and bring so much excitement to our sporting events," said Timmons, who joined Guardian Catholic last year after graduating from Edward Waters University where he served as drumline leader. "Helping children as young as first grade to read music and understand the fundamentals often fuels a lifelong passion for music. I'm excited to start my own traditions at Guardian including a band program; my vision is to get more and more kids to learn about music."
"On behalf of the Guardian Catholic School Board of Directors, we wish to thank The Jim and Tabitha Furyk Foundation for their tremendous support for Guardian's music program," said Jane Lanier, Board Chair. "Because of Tabitha and Jim's generosity, our students have many new musical instruments, and they are learning to read music — even our second graders! Quality educational opportunities like this found at Guardian give every child an opportunity to succeed. The Furyks' tireless work for children, particularly the most vulnerable, is recognized and appreciated by all of us at Guardian.
"A group of a dozen Guardian student ambassadors was also invited to attend the Constellation FURYK & FRIENDS golf tournament on Friday, October 7. The students, most of whom had never visited a golf course before, had a great time watching the players and learning about the sport. The tournament, now in its second year, raises funds for local charities in the Jacksonville community.